A big time saver for customers is our invoice search feature. It allows them to look up and download a copy of an invoice issued by the Travel Manager.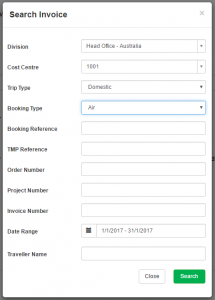 To access the feature, click the Search link at the bottom of the slider menu within any Travel Analytics dashboard.
When the link is clicked, a search box opens allowing them to enter details of the invoice they require.  Clicking the search button, opens another window providing a list of invoices that fall within the criteria entered in the previous screen.
To download the invoice, the user simply clicks on the invoice number (link) and it will automatically start to download.
The invoice is a recreation (copy) of the original invoice issued by the Travel Manager. The invoice is ATO compliant, and comes complete with details of the charges and any references the customer uses to track the invoice internally.